Whiteside Downshear Double Flute Flush Trim Router Bits
6 item(s)
Filter items by:
Cutting Diameter
, Cutting Length
, Overall Length
, Shank
, Brand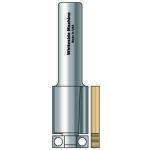 These router bits function like a traditional caribde tipped double flute flush trim router bit but provide a downcut shear angle for a slicing effect on the wood avoiding potential tearout. Available in 1/4" and 1/2" shanks.
All of our router bits are made by the award winning Whiteside Machine Company.
Click product name below for detailed product page.