Whiteside Classical Flat Bottom Router Bits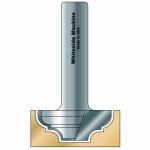 Classic flat bottom router bits help crates a raised panel effect in doors, moldings and large work pieces. These Whiteside bits provide a wide flat bottom cut for a greater depth in the detail. Choose from the available shanks and diameters below to add new Whiteside classic flat bottom router bits to your collection of woodworking tools today.
Click product name below for detailed product page.