Whiteside Bull Nose (Half Round) Router Bits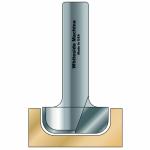 Used to form a completely rounded edge, or to leave a bead on top and bottom, half-round router bits are a perfect fit for creating a decorative edge. These half-round router bits are carbide tipped and are available in a variety of cutting lengths and diameters. View our Whiteside router bits below for assistance creating a half round shapes and edges.
Click product name below for detailed product page.