Whiteside Roman Ogee Router Bits
5 item(s)
Filter items by:
Radius
, Cutting Length
, Large Diameter
, Overall Length
, Shank
, Brand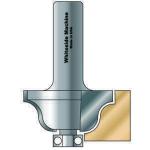 Some of the most popular Whiteside bits fare the Roman ogee router bits. Woodworking pros use these bits choose to add a decorative edge to any project. These 1/4" or 1/2" shank carbide-tipped router bits can be used in both handheld and table mounted routers.
These Roman ogee router bits are manufactured by the award-winning Whiteside Machine Company.
If you don't see the tool you need for specialized woodworking, contact us and we'll do our best to locate it for you.
Click product name below for detailed product page.