Whiteside Solid Carbide Flush Trim Router Bits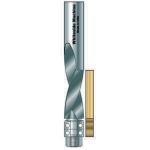 Nothing with leave a cleaner flush trim cut than a spiral flush trim bit. Available in both upcut and downcut for use in any situation. The upcut with shear up toward the router base and the downcut will shear away from the routerbase to choose correctly based on your top surface and router position.
All of our router bits are Made in USA by the award winning Whiteside Machine in their North Carolina factory.
Click product name below for detailed product page.