Whiteside Solid Carbide Compression Up/Down Router Bits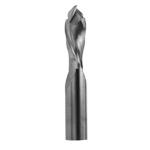 The compression bits are a popular choice for CNC applications and feature both upcut and downcut flutes. The 1+1 compressions has one upcut and one downcut where the 2+2 has two flutes in each direction and the 3+3 has three flutes in each direction.
All of our router bits are Made in USA by the award winning Whiteside Machine in their North Carolina factory.
Click product name below for detailed product page.